Legislation Society members decline to debate courtroom gender declaration rule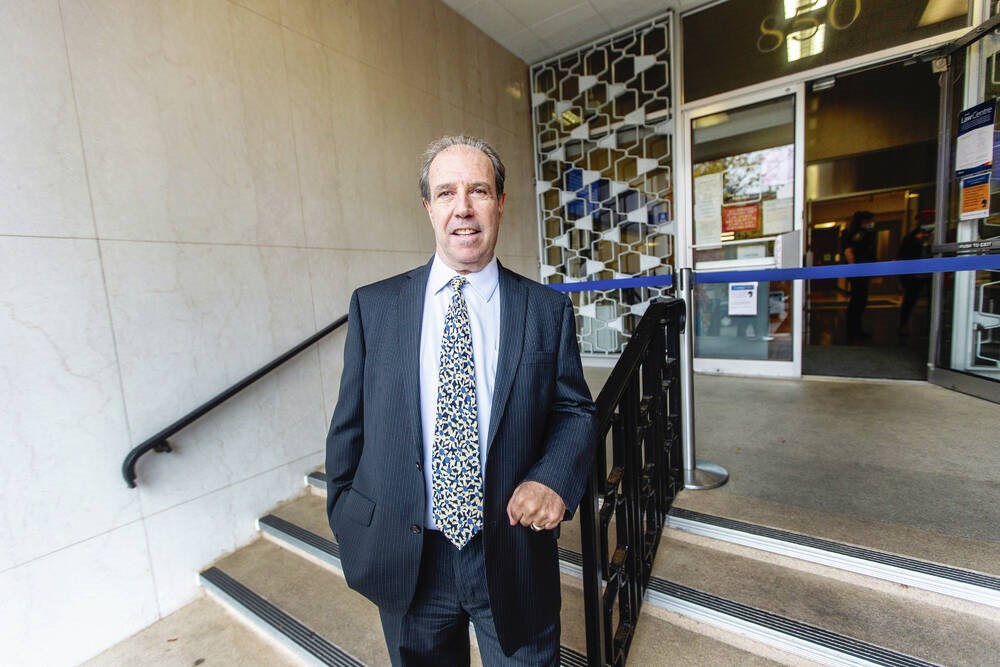 Since December, all B.C. courts have required lawyers to also state their names, titles and gender pronouns.
The Law Society has rejected a Victoria lawyer's attempt to open debate into a new requirement that lawyers state their gender pronouns at the beginning of court proceedings in B.C.
Lawyers have typically introduced themselves, then spelled their last names for the court record, but since December, all B.C. courts have required lawyers to also state their names, titles and gender pronouns.
In its notice to the profession, the provincial court provided an example of what was expected:
"My name is Ms. Jane Lee, spelled L-E-E. My pronouns are she/her. I am the lawyer for Mx. Joe Carter, who uses they/them pronouns." Mx. is pronounced "mix" and is a gender-neutral title/salutation, the court explained.
Since the directives were issued, "strong opinions have been voiced by lawyers on either side of the issue," said an Oct. 7 article in Canadian Lawyer magazine. Those in favour call criticism of the directives "akin to hate speech," it said, while those who want more debate say the other side is trying to censor their views.
Victoria lawyer Jim Heller, one of the lawyers pushing for more debate, describes the new directives as "compelled speech."
"It's an affront to my sense of self. It makes me lie. For me to tell someone 'These are my pronouns' is based on an assumption that they don't know that. Everybody who looks at me knows I'm a guy, plain and simple."
In February, Heller wrote to the chief judges of the provincial and supreme courts asked that the directives be repealed and that a more inclusive consultation process be held. When that failed, he brought a resolution before the Law Society of B.C. proposing open debate on the use of pronouns in court proceedings.
"It's simply to affirm the general underlying principle that lawyers do not shut down debate on contentious issues," said Heller.
At the society's annual general meeting, held virtually on Oct. 5, attendees voted 58 to 42 per cent against Heller's resolution to open debate on the use of pronouns in court proceedings.
Heller said he's not disappointed by the outcome, however. "It completely proves that there are a whole lot of lawyers who are not happy about how this unfolded."
In its notice to the profession, the provincial court said the information is important to improve experiences within the legal system for gender-diverse parties and lawyers. It also means lawyers will not have to raise the issue only after incorrect titles or pronouns are used.
"The Court hopes its new notice will contribute to a culture that is inclusive and respectful of everyone."
Clare Jennings, president of the Canadian Bar Association of B.C., spoke against Heller's resolution, calling it "an attack on the equality of transgender people."
Transgender people have a higher rate of legal problems that require resolution by the court, yet they have lower trust in and access to the legal system, said Jennings.
"Significant contributing factors to this are ongoing transphobia, misgendering and its associated harms. Being able to work with a transgender lawyer and feeling safe in a courtroom are two steps that can help these clients," she said.
The courts are trying to create a more inclusive space where all participants in the justice system feel safe and are able to focus on the issues, said Jennings.
"This is an important part of access to justice. Debating whether the courts should be safe space for transgender people creates a barrier to justice," she said.
Victoria lawyer Michael Mulligan noted that although the resolution didn't pass, the vote was close.
"And there was a debate about it in terms of debating whether there should be a debate. All kinds of people weighed in and discussed it online," said Mulligan, noting that Supreme Court justices are still referred to as My Lady and My Lord.
He believes the new directives are helpful in being respectful and addressing people the way they want to be addressed. But he suggested the court could adopt a more neutral way of addressing people than gender declaration.
One way to deal with the pushback against the use of pronouns and the gender declaration is to use something neutral like the term counsel, said Mulligan.
"Or you could, in an open-ended way, say: 'Please introduce yourself in the way you wish to be addressed.' If I want to be Counsel Mulligan, fine. I'm sure from the judicial perspective, it's helpful having people indicate what they prefer, otherwise you're left guessing."
Mulligan noted that another less-controversial resolution that did pass directs the Law Society to allow lawyers to indicate their pronouns and forms of address on the lawyer directory on the society's website.
The resolution also asked for technical support to allow members from diverse communities to list their traditional names using characters and to support audio pronunciation guides for non-English names.
"I think it's going to be very useful. If you don't know the person, you're not going to misidentify them," said Mulligan.
ldickson@timescolonist.com